We Love Being Part of the DCH Auto Group and Our Local Community
As part of the DCH Auto Group, we're proud to be part of an innovative industry leading company, and we take our commitment to customer satisfaction, employee satisfaction, integrity, and teamwork to heart, and it shows through in all that we do. 
From sales to service, we always strive to put the best foot forward. Part of that best-foot-forward philosophy means offering honest, transparent pricing in all our business, as well as extending financing options to folks with less-than-stellar credit.
While we're quite busy in our showroom, we always make time to volunteer and give back to our local community. We do this by working closely with local organizations, like Students Against Destructive Decisions and by contributing to the DCH Teen Safe Driving Foundation. We support teens in making good decisions both on and off the road!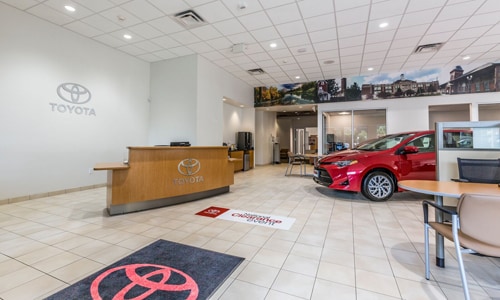 One Location for Sales, One Location for Service, One Approach to Stellar Customer Service
We house our sales department and service department in two different buildings, but our commitment to stellar customer service extends to both!
Service Center: 700 Waverly Avenue, Mamaroneck, NY
Sales Center: 1305 East Boston Post Road, Mamaroneck, NY
Each is conveniently located for drivers from Mamaroneck and our neighbors in Yonkers, New Rochelle, White Plains, Rye, and Port Chester, NY.
The folks you'll find in our sales department are friendly, approachable, and wholly committed to our mission of excellent service, so you can expect honesty and integrity from us the whole time. 
We proudly represent the Toyota lineup, so if you're interested in a new Camry, Corolla, Prius, RAV4, Highlander, or Sienna, come on down and meet one of your neighbors and find a great new or pre-owned model to take home!
Just like the rest of our business, we take customer service seriously in our Service Facility, which is why you'll find amenities like:
free WIFI in the waiting room
complementary loaner vehicles
and convenient extended evening service hours for those of us with packed schedules
We offer service appointments for those who want them and Toyota Express Maintenance can handle many services without an appointment.
Thanks for making us part of the local community here, and we look forward to many more wonderful years together.